Join three Spartan colleagues and learn about their experiences in this edition of our WorkLife Family Diversity Series!
PanelAnn Crain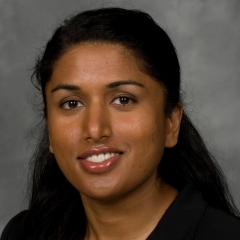 Speaker Bio
Ann Samuel Crain has served as a Graduate Assistant at the Eli Broad College of Business since 2004 and joined the staff full time in 2006. As Program Coordinator for Multicultural Business Programs, she plans The Black History Month Multicultural Heroes Hall of Fame Case Competition, the Asian Pacific American Business Leadership Conference and advises the Women in Business Students' Association. She facilitates recruitment for the Residential Business Community for the Eli Broad College of Business through community outreach programs. Ms. Crain received a Bachelor of Arts degree in journalism and a master's degree in clinical social work both from MSU. She has 24 years of experience mentoring students from diverse backgrounds and creating programming to assist in student development. Currently, she serves as a co-convener for the Asian, Pacific Islander, Desi American/Asian Faculty Staff Association.
Ann is a daughter of immigrants from Kerala, India and is the oldest four children. She has extended family all over the USA, in India, Canada and Australia. She was raised in a close-knit Malayalee (an ethnic group from Kerala, India) Christian Community in the Metro Detroit Area. She is married and the mother of three children.
Ann is indebted to the African-American Civil Rights movement that allowed her mother to immigrate to United States in the early 1970s.
Tiana Carter
Speaker Bio
Biography: Tiana Carter began her career with Michigan State University at Infrastructure Planning and Facilities. Her diverse experience ranges from supporting the development of the Multicultural Center and helping develop the Diversity, Equity and Inclusion strategic plan to supporting more than 60 full time engineers and architects on various construction projects. She was responsible for overseeing the Facility Coordinators Workgroup for campus and played an integral role with the Faculty Readiness Program ensuring laboratories were up and running for newly hired research faculty. Over the past eight years, Tiana has worked hard to achieve a healthy work-life balance at MSU as she works full time and attends classes to obtain her bachelor's degree in Neuroscience. Tiana is a proud Spartan who is passionate about supporting others and illustrates the importance of always being your authentic self, both professionally and personally.
Ramjee Ghimire
Speaker Bio
Originally from Nepal, Dr. Ramjee Ghimire has been involved in educational, sociocultural, and extramural activities right from his school life. At MSU, he served as the Co-chair for the University Apartment Council of Resident (UACOR) providing oversight to student and their family-centered sociocultural activities that included but not limited to Summer and Winter Fiesta, Talent Show, Christmas, and Halloween Parties, Sport Events. He has also coordinated festive events for the Nepalese communities living in Greater Lansing.
Dr. Ghimire holds a Ph.D. in Community, Agriculture and Resource Studies from MSU. He believes on and advocates for the diverse, equitable and inclusive communities and institutions where everyone irrespective of their religion, nationality, race, ethnicity, and economic wellbeing is accepted and gets opportunity to participate in, contribute to, and benefit from.
Pelase note that Asia is a huge continent! Our panel consists of 3 speakers who might speak to South Asian culture – the Indian subcontinent – not East Asian, Pacific Rim or other cultures.
Questions for Panelists
How do you define "family"?
Who holds the most "status" in your family? Why?

How important is hierarchy?
How are gender roles perceived?

How important is education in your family?

Are people encouraged to question things?
Are people encouraged to be more action-oriented or to be more contemplative?

Do you eat foods that are indigenous to your culture? (at work and/or home)

Why or why not?
If yes, name some of the foods that you eat.

Did you ever live with your grandparents or extended family?

What are the cultural attitudes toward aging and the elderly?
How do people view obligations toward one another?

How important is religion to your family? Why?

Do you plan to pass religion on to your children?
How important is connection with nature?

Define and describe the most important (or most celebrated) holiday of your culture.

Are your holidays recognized in your workplace, i.e. are you able to take days off without problems?
What are the norms around weddings? Births? Deaths?

If you are from a culture that speaks English as a second language, do you speak your native language?

If not, why?
If so, will you teach your native language to any children you have?

What is considered most dis/respectful in your culture?
What would you say is, from your perspective, the most commonly held misconception about people of your culture?
Tags